Event Production Services
Event Production Services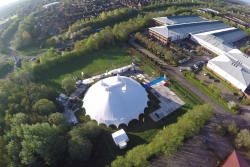 RJCC Events provide total production solutions for live events, college & university balls in Oxford, festivals, concerts, conferences, functions, corporate events and much more all from our warehouse conveniently located in Oxford, Oxfordshire within easy reach of London, Reading, Milton Keynes, Swindon and surrounding areas.
All members of our team are highly skilled industry professionals with many years of experience in all areas of lighting, sound, rigging, AV, stage management, artist management, event production and operation.
We can arrange and provide staging, generators, mains distribution, crew, fencing, barriers, logistics, communications, site management and security, liaising with local authorities where necessary.
We take pride in our personal service and dedication to customer satisfaction. A successful event for our client represents a successful outcome for our team.
Much of our business is generated by 'word of mouth' recommendations from previous clients' and guests.
Event Prodcution Testimonial:
"I just wanted to pass on the masses of praise that I have received from the ball committee for your work over the last week and indeed the last 13 months. You've been amazing from day one helping us build what was a truly fantastic night that will remain as a highlight of the colleges history. I particularly wanted to say thank you for your tireless efforts on the night. Even down to the little stuff like adding the fairy lights in the masters garden passage-way you and your team went above and beyond what anybody could have expected and I am in awe of you for managing to keep yourself going for that long. You and RJCC are worth much more than you charged us and anybody who chooses another production company over you don't know what they are missing. I wish you all the best for the future and I will recommend you for any events I know of in the future. Thank you again from everyone in the Balliol Commemoration Ball Committee"
Sam Roberts, Head of Production, Balliol Ball 2013
RJCC Events also produce the ever more popular boxing events. We can provide box truss around the ring to support lighting and sound equipment can be flown from this creating a surround sound effect. Venues have included Oxford Town Hall, Kassam Stadium and Swanage Football Club.